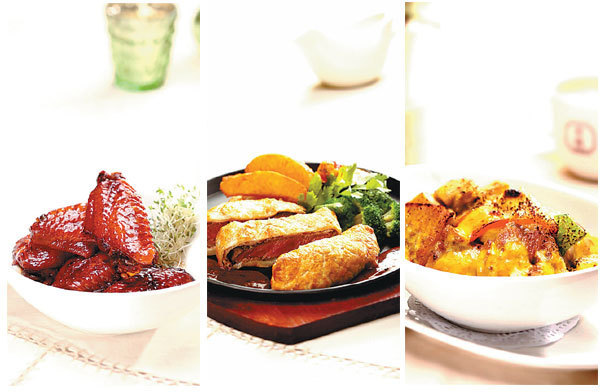 From left: Chicken wings simmered in homemade sweet soy sauce, beef Wellington, and Portuguese seafood rice are three popular dishes at Loyal Dining in Hong Kong. Photos Provided to China Daily
Loyal Dining conjures up Hong Kong's past with a retro ambience and dishes your parents enjoyed while they were dating. Rebecca Lo steps back in time to find out more. There is a Cantonese expression that any Hong Kong native over the age of 30 would know. When referring to an imported product, the slang is that it is loi lo or coming from old friends. At a time when the cost of international travel was prohibitive for most people, products from Europe or North America were prized and flaunted to display their owners' impeccably worldly taste. That goes for dining, too. Dishes such as beef Wellington, Swiss chicken wings and Portuguese baked rice were decidedly Hong Kong twists on Western staples. Young couples in the '60s and '70s would seek out restaurants that serve these dishes, partly to rebel against the unrelenting Cantonese fare they had at home. Holding hands while sipping "black cows" (Coke float with chocolate ice cream) or "snow whites" (7UP float with vanilla ice cream), they wooed contentedly. Flash forward 50 years, and the tong laus (five-story traditional walk-up buildings) where fusion restaurants used to dominate have mostly been replaced by glass skyscrapers. Retro is in vogue primarily because it is so difficult to find authenticity. And one restaurant group is capitalizing on the trend by dishing up nostalgia on a plate with aplomb. Loyal Dining, the phonetic translation of loi lo, revives familiar dishes and makes them relevant to today's diners. Take Swiss chicken wings. An urban legend has it that decades ago, a Swiss tourist in Hong Kong asked for a plate of chicken wings in a diner but the waiter couldn't understand what he wanted. The chef experimented with a combination of sweet and savory, using soy sauce as the base. Voila! The dish was named after the tourist's nationality and is about as retro as bouffant hair. Loyal Dining's Western cuisine executive chef Liu Chi-hong and Chinese cuisine executive chef Ho Tai-shing worked with BMA Catering Management's executive director Cherry Lo on dishes such as Swiss chicken wings. "We thought about what we used to eat as kids," Lo says. Typically, a dish from 50 years ago will contain a greater amount of saturated fat. Lo and BMA's catering manager Michelle Lee understand that people want healthier, more sustainable versions of traditional dishes. Stuffed chicken wings with vegetarian shark's fin are one example of Loyal Dining stepping up to the plate. "Historically, this dish was stuffed with real shark's fin," Lee says. "Today, we feel that it is more responsible to stop using shark's fin altogether. We kept the wow factor with vermicelli in a traditional shark's fin broth." BMA, the group that owns and operates Loyal Dining along with four other restaurants, was originally an entertainment business. A few years ago, it began to diversify and opened Loyal Dining in July 2011. While there are other restaurants that serve retro dishes, Loyal Dining is the only one I've seen with so many nostalgic offerings jammed into one menu. It even offers all-day dim sum courtesy of head dim sum chef Wu Kwok-Kwan. "We have a wide clientele," Lo says. "We have tourists, business executives and locals seeking classic Hong Kong dishes, families bringing parents or kids to relive past memories, and late night revelers from Lan Kwai Fong." Loyal Dining is one of the few restaurants in Central open until 2 am on weekdays and 4 am on weekends. I love the black-and-white photos of old Hong Kong street scenes decorating the three-story restaurant. There is a decidedly different vibe on the ground floor, with its dark wood paneling, plaid wallpaper and art-deco bronze pendant lamps. The two floors above are more intimate and boast diamond-stitched booth seating with sunburst-patterned lamps mounted on the ceiling. After we indulge in black cows, a parade of dishes past began to rain upon us. I was really glad that I insisted on covering my Loyal seafood soup with puff pastry. The pastry was so buttery that I couldn't resist tearing off greedy chunks, and the tomato-based soup was rich with an assortment of herbs. Squid, mushrooms and a giant prawn made the soup a meal in itself. I also enjoyed the bright green spinach dumplings with their crunchy greens. Lee mentioned that the spinach was stir-fried before being stuffed into the dumplings for a distinctive texture, and the green pastry was tinted naturally with spinach leaves. We next enjoyed two types of pigeon: crispy and soy. Both were tender and juicy, but the crispy version literally melted in my mouth. Ditto for the chicken wings in homemade sweet soy sauce: It was a contemporary take on Swiss wings and had the perfect balance of acidity, sugar and salt. Another standout for me was Portuguese-style baked chicken with rice. I adored its crusty curry-coconut sauce and the big chunks of boneless chicken with carrots and potatoes. It has just the right amount of sugar and spice without overwhelming the inherent flavors. On my way out, I patted Lap Sap Chung, a huge green sculpture of the beloved litterbug that the Hong Kong government launched in 1972 as part of a clean-up campaign. Like the rest of Loyal Dining, he was an oldie but a goodie.
IF YOU GO
Loyal Dining G/F-2/F, 66 Wellington Street, Central, Hong Kong. 852-3125-3000. Average cost per person: $32. Recommended: Seafood Soup with Puff Pastry, Chicken Wings Simmered in Homemade Sweet Soy Sauce, Portuguese-Style Baked Chicken with Rice.